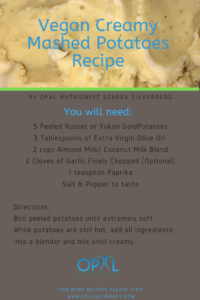 Vegan Creamy Mashed Potatoes
5 Peeled Russet or Yukon GoldPotatoes
3 Tablespoons of Extra Virgin Olive Oil
2 cups Almond Milk/ Coconut Milk Blend
2 Cloves of Garlic Finely Chopped (Optional)
1 teaspoon Paprika
Salt & Pepper to taste
Directions:
Boil peeled potatoes until extremely soft
While potatoes are still hot, add all ingredients into a blender and mix until creamy.
This recipe is super simple, gluten free, vegan and kid friendly. Mashed potatoes make a great side dish. If you want an even healthier recipe, you can substitute cauliflower for the potatoes. Works great!